Case 1 - Criminalisation of Singapore Citizens and even Foreigners who Express Critical Views
Main Menu | Corrupt Justice in Singapore | Criminalisation of Citizens with Adverse Political Views | Tell UsYour Story
To reveal just how bad the silencing of Freedom of Expression in Singapore is, we list a number of cases, and include articles from other websites who have been meritorious enough to Dare to Publish the Abuse comittes by the Singaporean State against its own, and foreign citizens. Any info which comes from articles written on other websites will have the link and state the source, so you can please also visit their websites, for them to enjoy the benefit of us having used their info. Any website, even a DOT COM under U.S. Law can be hacked by the Singaporean Cyber Division, who are among the best, with the most advanbced tech in the world for intelligence and cyber spying.
Despite quoting and using some articles from other websites, we only do so, because we want our pages to contain the most shocking and important stories, to reveal the true magniturde and extent of the problem, of the corruption within the Government of Singapore and the Singaporean Justice. We do not steal info from other websites, and have the simple honest intention to compile and make transparent the immensity of the problem in Singapore, as well as exposing other related afillliated Governments and their Deliberately Hidden Misdeeds
(The Famously Human Rights Abuse Beplagued Country of Singapore, used broad laws in 2018 to intensify already severe restrictions on free speech and assembly, Human Rights Watch said today in its World Report 2019. The government appears poised to introduce legislation on "deliberate online falsehoods to further curtail political speech prior to possible elections in 2019. "The Singapore government persists in treating those who express critical views or reporting on them as criminals, said Phil Robertson, deputy Asia director.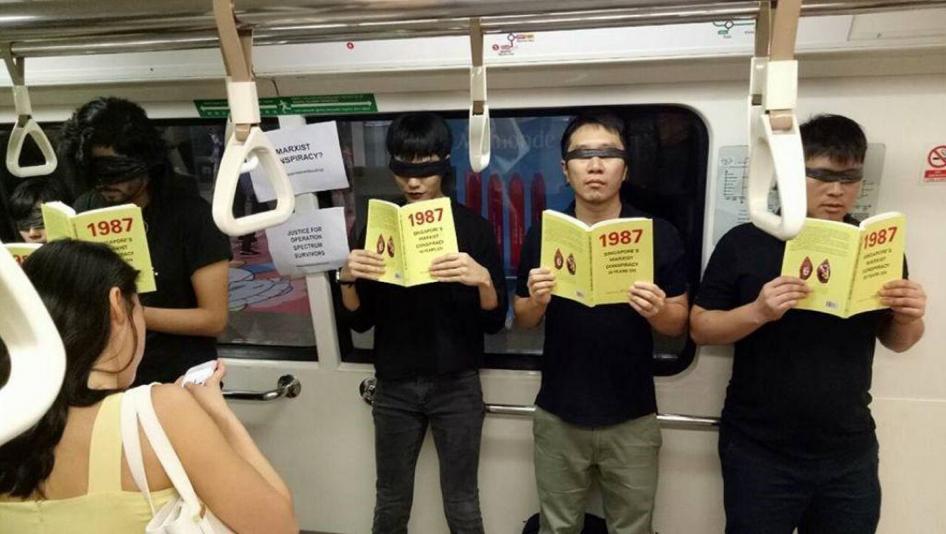 The government's heavy-handed response to free expression showed no signs of relenting in 2018. The Singapore government persists in treating those who express critical views or reporting on them as criminals. Phil Robertson Deputy Asia Director In the 674-page World Report 2019, its 29th edition, Human Rights Watch reviewed human rights practices in more than 100 countries. In his introductory essay, Executive Director Kenneth Roth says that the populists spreading hatred and intolerance in many countries are spawning a resistance. New alliances of rights-respecting governments, often prompted and joined by civic groups and the public, are raising the cost of autocratic excess. Their successes illustrate the possibility of defending human rights" indeed, the responsibility to do so – even in darker times."
"In November 2018, authorities raided the home of the editor of alternative news site The Online Citizen, seizing computers and mobile phones. Editor Terry Xu was questioned for eight hours, and on December 13, charged with criminal defamation for a letter to the editor posted on the site. Prosecutors also charged the letter writer, Daniel De Costa, with defamation. The authorities also blocked online news site The States Times Review on the grounds the site had published "fake news. Earlier in the year, in April, the government Accounting and Corporate Regulatory Authority (ACRA) refused to permit the founders of the online news site New Naratif to register a private company to organize discussions and provide editorial services for the site, saying that to do so would be "contrary to national interests.

The agency said the decision was necessary to prevent foreigners from interfering in Singaporean affairs because the parent company received some funding from a foreign foundation. The authorities have frequently prosecuted critics of Singapore's judiciary under the country's broad contempt law. In October, a court found activist Jolovan Wham and Singapore Democratic Party politician John Tan guilty of scandalizing the judiciary for their Facebook posts. Wham had shared an article about the constitutional challenge against the Anti-Fake News Act in Malaysia and commented that, Malaysia's judges are more independent than Singapore for cases with political implications. Tan later posted on his Facebook page that, by charging Jolovan for scandalizing the judiciary, the [Attorney-General Chambers] only confirms what he said was true.

They face up to three years in prison under a law that Britain and other Commonwealth countries have scrapped as antiquated and undemocratic. Draconian restrictions on public assemblies have long been used to prevent even peaceful protests by single individuals. Seelan Paley, a performance artist, was convicted of violating the Public Order Act by walking from Hong Lim Park to Parliament carrying a piece of art to commemorate the 32 years that Chia Thye Poh was detained under the Internal Security Act. Paley was sentenced to two weeks in prison after refusing to pay a fine of S$2,500 (US$1,800). Singapore criminalizes consensual sexual relations between men, (But not Women! Unfair and Sexist!) and systematically targets for censorship or severe restriction any positive media or public depiction of lesbian, gay, bisexual and transgender (LGBT) persons. Foreign migrant workers also face a range of labor rights abuses and exploitation through debts owed to recruitment agents, non-payment of wages, restrictions on movement, confiscation of passports, and sometimes physical and sexual abuse. For all its purported sophistication and modernity, Singapore still criminalizes consensual sexual relations between men and censors positive public depictions of LGBT persons and their community, Robertson said. Migrant workers face a battery of rights violations from employers who can withdraw their legal status in Singapore at any time and force them on a plane home without justice or compensation.

Source; HRW.ORG
Main Menu | Corrupt Justice in Singapore | Criminalisation of Citizens with Adverse Political Views | Tell UsYour Story